Slow-Cook Inquiry – Registration Closed
Introducing Slow-Cook Inquiry
Slow Cook-Inquiry is a way to do The Work with a group in just five or ten minutes a day. We just answer one question per day. And we work just five days a week (weekends off). This way we thoroughly work one new concept every week.
Here's what a typical week looks like in Slow-Cook Inquiry.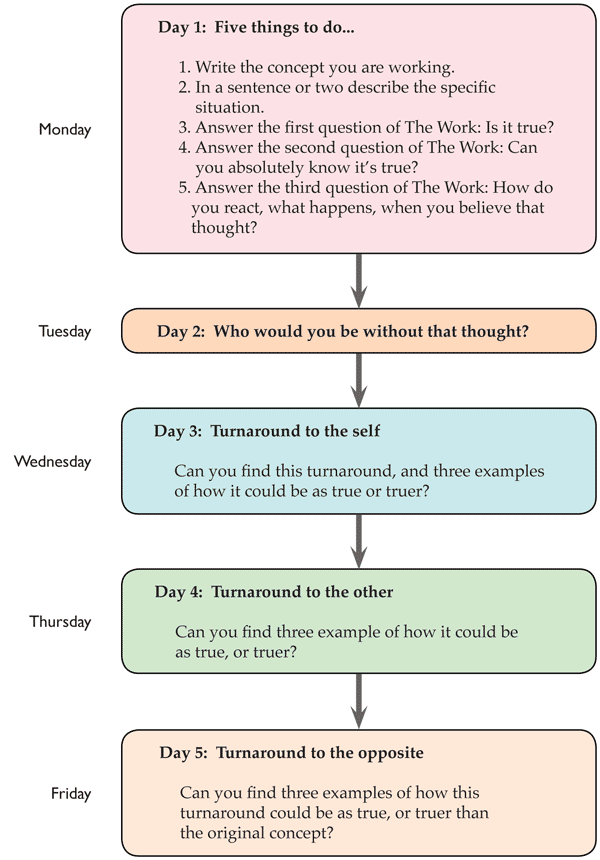 This Slow Pace Has A Big Advantage
It lets you show up on your own time every day to contribute. You don't have to worry about making time for a scheduled session. Slow-Cook Inquiry fits easily in your schedule. And it can easily be done on your computer. (Tablets or phone work as well, but it is harder to copy and paste with these platforms).
Slow-Cook Inquiry is a place where everyone participating can see the threads, respond to them on their own time, and do The Work at a slow, methodical pace. And as a community, we support each other, and encourage each other in our work.
But I'm Really, Really Busy…
Why Slow-Cook Inquiry
Do The Work every day in little doses (10-15 minutes per day)
Go deeply in your work: slow pace equals more depth
Learn from others by following the topics others are working
Powerful, openhearted community: the power of the group is invaluable
Accountability: we all serve each other and this keeps us coming back
Keeps The Work active in your mind: insights percolate all day
Gives you a chance to integrate your insights into action: to live your turnarounds
Allows you to go very deep with one worksheet: we spend two months on each worksheet
But I'll Be Exposed On The Web
This is a common fear when doing The Work anywhere. And it stops some people from doing it at all.
But you are actually more anonymous in the Slow-Cook Inquiry online forum than anywhere else when doing The Work. This is because the people you are working with probably won't know you. The pool of participants is from around the world. Also, we use first names only in Slow-Cook Inquiry. And you can use a pseudonym for extra confidentiality if you prefer.
This allows you to write freely, with the support of a group, while maintaining complete privacy. Also, Slow-Cook Inquiry takes place in a password protected forum. So your privacy is protected.
"I Became Aware Of The Work Six Years Ago, But Doing The Work On My Own Has Been Full Of False Starts And Fits

"Before Slow-Cook Inquiry, I attended two in-person workshops with certified facilitators. One in Seattle. Then I went to one in British Columbia. I tried to combine it with interesting travel.

"There were a couple of people in the workshops where we agreed to continue doing The Work together afterwards, but then it kind of fizzled out.

"The other work that I've done has been listening to Katie on audio. But I hadn't actually sat down and done a worksheet on my own. I just wouldn't get to it. Or I would think about it, but I wouldn't put pen to paper–I wouldn't convert it into digits.

"Also, I Never Did The Work In A Systematic Way

"I would do The Work in my head, and I would jump immediately to "OK, what's the opposite of this?" I wouldn't go through the steps of a worksheet at all. I would just try to identify the stressful thought, skip all the middle, jump to the opposite, then think, "Oh, OK that's right. Now move on." It was not anything that was lasting.

"I was just thinking an opposite thought, and listening to Katie on audio. So it was very kind of surface level. Whereas Slow-Cook Inquiry really does force you to go much deeper. And it also doesn't feel like this huge commitment to go deeper, even though it is every day.

"It Is a Very Manageable Commitment

"I just found that Slow-Cook Inquiry is a really good structure for practicing The Work and being self-disciplined about it. It's very easy. And for me, the pace is perfect. To take each part of the Judge-Your-Neighbor Worksheet and do one question at a time for a week–it sounds really slow, but I find it gets me to a deeper level.

"I also like the everydayness of it. And I really like the way Todd provides the example.

"And everybody else's examples are also very, very helpful to read. Read more.

Susan,
Phoenix
Here's How It Works
The Two-Month Judge-Your-Neighbor Worksheet Cycle
In Slow-Cook Inquiry, we use a two-month Judge-Your-Neighbor Worksheet cycle. That means we take two months to work through a Judge-Your-Neighbor Worksheet. We take a week to write it, and six weeks to question what we wrote, and one week to question any other related underlying belief.
It is the Judge-Your-Neighbor Worksheet Cycle in slow motion. Here's what it looks like.
Week 1: Writing a new JYNW
Week 2: Questioning Line 1
Week 3: Questioning a Want (Line 2)
Week 4: Questioning a Should (Line 3)
Week 5: Questioning a Need (Line 4)
Week 6: Questioning a Judgment Statement (Line 5)
Week 7: Turning Around the Worksheet (all lines)
Week 8: Questioning an Underlying Belief
New participants are accepted every two months at the start of a new Judge-Your-Neighbor Worksheet Cycle.
Once we complete the cycle, we start over. This is an ongoing practice of The Work. Many participants, including myself, have been doing Slow-Cook Inquiry for years as a regular practice of The Work.
You will thoroughly work through one Judge-Your-Neighbor Worksheet every two months. This simple routine allows you to go deeply into a Judge-Your-Neighbor Worksheet, while only spending 10-15 minutes a day doing it.
I Thought It Might Be Boring
An Essential Part of Slow-Cook Inquiry Is Commenting
Participants in Slow-Cook Inquiry are divided into small groups of 3-4 people each. As a participant in your small group, you will post your own work in your work space, read what others have posted in their work spaces, and leave comments on what others have written.
It's your job each day to comment on what the others in your small group have written so that no one feels like they are doing The Work in a vacuum. This also provides a very nice experience of community, and mutual learning. And it is an opportunity to gain from The Work that others are doing.
There are also comment guidelines in place that disallow advice-giving of any kind. This is safe space for doing just one thing: going deeply into your own work whether you are posting or commenting.
There are currently four participants in Slow-Cook Inquiry including me.
Eligibility
Slow-Cook Inquiry is open to anyone who has completed "The Work 101 with Todd" course, or Byron Katie's "School for The Work." If you have not completed either of these courses, and feel that you have a lot of experience with The Work, please contact me for special consideration.
You can learn more about The Work 101 with Todd here. And Byron Katie's School for The Work here.
Billing
Payment for Slow-Cook Inquiry is by credit card only. It is an automatic, recurring, monthly charge. Each month at the beginning of the month, I will charge your credit card $20. This will give you access to the forum. By completing the payment below, you are agreeing to the recurring, monthly charge.
You can cancel at any time by sending me an email. You may also step out for a month at any time, and rejoin by simply sending me an email.
Need-based scholarships are available. If you would like to participate but cannot afford $20/month, please contact me to apply for a scholarship.
Learning Curve
If you have never used a forum before, you can expect a bit of a learning curve for the first week or two. Once you learn the specific workflow of this forum, it becomes second nature. This is why we have an Orientation Week the first week that you are in the forum.
More Testimonials
"In the Actual Doing of The Work on the Forum, Sometimes the Clarity that Comes Feels Loud and Bright and Other Times Can Feel Quite Mellow, Even Hum-Drum

"But I do notice that the mornings I have been able to sit down for even 10-15 mins to do the work before the rest of my day begins, I am already holding all of my stories more loosely, without even working directly on them. I am already holding the reigns with more kindness and presence, I enjoy my day more, and I am quieter and happier inside.

"I also love the connectivity with others that I know not at all, other than by their name and our shared appreciation for inquiry. There is a warm friendliness that does not need to be any more personal that that. And also frankly I love how affordable it is.

"And Todd I deeply appreciate you, your clean and light and direct way of communicating and the creativity with which you offer the work! Your product development skills in this area are second to none and I love that for you, for me, and for all of your clients. Keep it up, you have created a niche and it really works for me." Read more.

Isabelle,
Edmonton, Alberta
It Doesn't Work For Me Guarantee
If you try out Slow-Cook Inquiry, and find that is not right for you for any reason, just let me know within 30 days of your start date. I'll happily give you your money back. So go ahead and try it out. You've got nothing to lose. If it's a fit for you, it might become one of your favorite ways to do The Work. It has for me.
Get Started Here
Not available at this time.
P.S. Why keep hopping along in fits and starts with The Work? Take advantage of the consistency, and the power, of the group in Slow-Cook Inquiry.